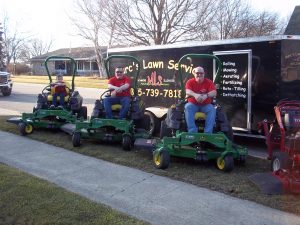 Marc's Lawn Service is a family owned local business operated by Marc Doty in Sycamore, Il.  I started the lawn care business in 1982 while I was attending high school in my hometown of Earlville, Il. In 1993, I was hired by the Sycamore Fire Department as a firefighter and shortly thereafter I moved to Sycamore. I began expanding the business in the Sycamore and DeKalb area in 1994. Due to business growth in this area I eventually sold the Earlville portion of my business. Today, we specialize in offering quality lawn care at affordable prices to customers in the Sycamore-DeKalb-Genoa area.
In 2016, after 23 years of service on the fire department I decided to retire and operate the business full time. The extra time after retirement has allowed me to expand my service area and add commercial snow plowing services that I did not previously offer.
Marc's Lawn Service offers mowing, rolling, aeration, dethatching, granular fertilizer applications, rototilling, sidewalk edging, bush trimming, mulch installations, and snow removal. Our client base includes residential, farm, and commercial customers within a 20 mile radius of Sycamore. We are a family owned and operated business employing local people. We are a fully insured, licensed, and registered business. Marc's Lawn Service is a proud member of the Sycamore, DeKalb, and Genoa Chambers of Commerce.